The farm's history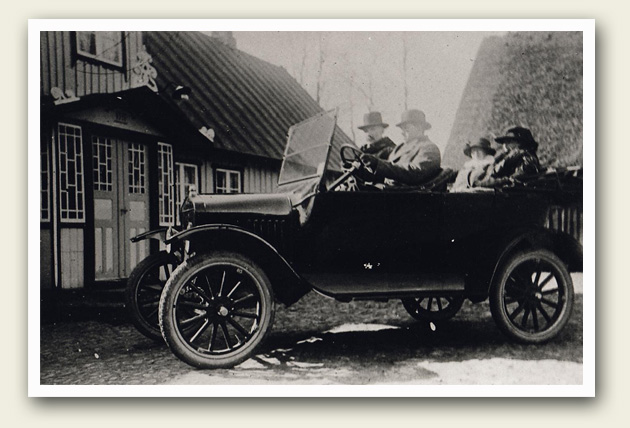 In the 1920´s Nils Olsson bought the first car in the village.
The farm was built in the middle of the 19th century and was the biggest farm in the village. The district was poor and only a few were well off.
Because the farm hasn't been in our family for generations, we don't know much about the owners before Nils Olsson who lived on the farm at the turn of the century. Nils was a skilled wagon maker who had labourers, two farmhands and a maid living with him on the farm.
The maid lived in a small room in the attic. Earlier, the attic, which was custom-built as a room, had been storage for grain and flax. At the turn of the century both the attics gables were fitted with windows and curtains. They wanted in that way mark an increased prosperity by giving the appearance that the attic was furnished. At that time the building was fitted with boards and painted with a light, green oil paint.
In the 1930's the farm was inherited by the son, Hilmer. The iron stove was removed and replaced by an AGA-oven. A new, modern stable for milk cows was built and, up to the 1960's, the farm was operated as a milk farm.
After Hilmar and his wife Elsa died, the house was uninhabited for 15 years.
An extensive renovation was started just over 3 years ago and now we are closing in on our dream of a garden café with bed and breakfast in 19th century style.

In the 1930's the farm was taken over by the son, Hilmar, and the old iron stove was replaced by a modern AGA-oven, which also was a excellent source of heat.