Bed & Breakfast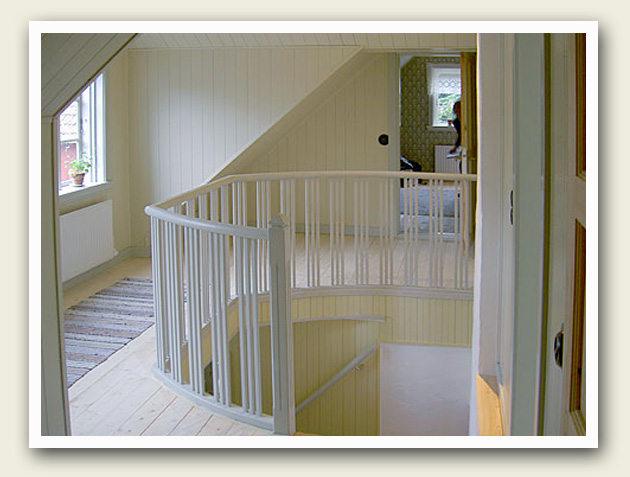 Our rooms are set in the building's first floor cafe and a total of seven beds are divided into:
Herrskapsrummet (the master room) - a doubleroom with private shower and toilet.
Pigkammaren (the maid´s chamber) - a bright, single room with washbasin and a beautiful view of the garden.
Drängkammaren (the farmhand's chamber) - with four generous bed cabinets where you can pull the blue, checkered curtains for privacy. The shower and toilet are outside the door and shared with Pigkammaren.
Insulation of paper in walls, ceilings and floors, linseed oil and tempera paint, wallpaper and soaped wooden floors makes for a healthy sleeping environment. Our bed linen and towels are made from organic cotton. Our bedding is made with down unless you request otherwise. The breakfast buffet, including our own homemade organic müsli, sourdough bread and fresh fruit, is served in the cafe downstairs and during the summer you can sit in the fragrant garden.
To help you get a restful stay, there is deliberately no TV, but all rooms have wireless Internet access. Or, perhaps, you can just choose to take a nice walk in the woods and then just relax with a cup of tea and a book in front of the fireplace.
Our rooms are non-smoking and all pets must stay outdoors.